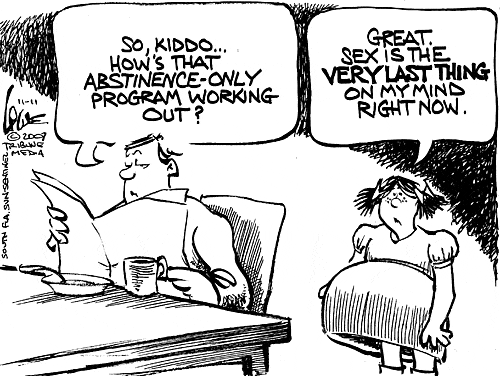 I haven't yet blogged about Sarah Palin because, frankly, all the predictable things to say have been said. Some are decrying her lack of executive experience, foreign policy credentials, and are suggesting that her pick was little more than a naked ploy to win over disaffected Hillary supporters. Others think she is a "game changer", and a clever play to the evangelical base of the Republican party, themselves uncertain about McCain's fudamentalist credentials. These people adore her hard-line support of creationist teaching, the pro-life movement, and
abstinence education
in schools.
Well, life is a funny thing. Today, Palin announced that her 17 year old unmarried daughter
Bristol is 5 months pregnant
. Now let me be clear on this: I don't believe that the bedroom antics of Palin's daughter should be used as campaign fodder for political gain by anyone. But as an item of news released by Palin herself, Bristol's pregnancy should draw attention to the unquestionable absurdity and laughable folly of "abstinence-only education". In fact, a U.S. government report in 2007 supported the notion that
abstinence-only sex ed just doesn't work
.
By the by, Obama has already released
a statement
about this story, stating unequivocally that all candidates' children should be "off limits". Agreed.